As you may be aware the new residential planning zones for Victoria are undergoing significant change following the introduction of three new residential zones by the state government in July 2012.
These new zones are:
Residential Growth Zone (RGZ)
General Residential Zone (GRZ)
Neighbourhood Residential Zone (NRZ)
In addition to the above the existing Mixed Use Zone, Township Zone and Low Density Residential Zone have been slightly amended.
Only Glen Eira and Greater Dandenong have so far received approval from the Minister for Planning and enacted the new zones in their planning schemes, the new zones are now being used when determining applications in these two authorities.
A number of other authorities including Whittlesea, Boroondara, Banyule, Cardinia, Kingston and Monee Valley have requested that an Independent Standing Committee appointed by the Minister for Planning assess their proposed residential zones. This process is currently ongoing.
What does this mean for my development proposal?
Perry Town Planning has been closely monitoring the roll out of the new zones including the effect on development potential of our clients land.
We have found that there are substantial differences in each Council's application of the zones regarding development density and design standards.
It is vital that when considering a new development opportunity to check not only the zone but also the schedule attached to it as we are finding that this is where Council's are using their discretion to impose significant restrictions on development.
One example of this is the proposed General Residential Zone for Whitehorse City Council, in many instances we are finding that this is significantly more restrictive than the previous Residential 1 Zone controls. Seven new schedules are proposed to be applied to the General Residential Zone each of which has different design standards including:
Minimum setbacks in excess of the current Rescode standards
5m x 5m areas of private open space which must be at ground level
Areas for planning canopy trees at the rear of properties
Increased areas of lots which must not be covered by buildings (permeability)
The City of Yarra however have a different approach whereby most of the authority which is not already covered by Activity Centre will be designated as Neighbourhood Residential Zone with the following schedules and the remainder as General Residential Zone: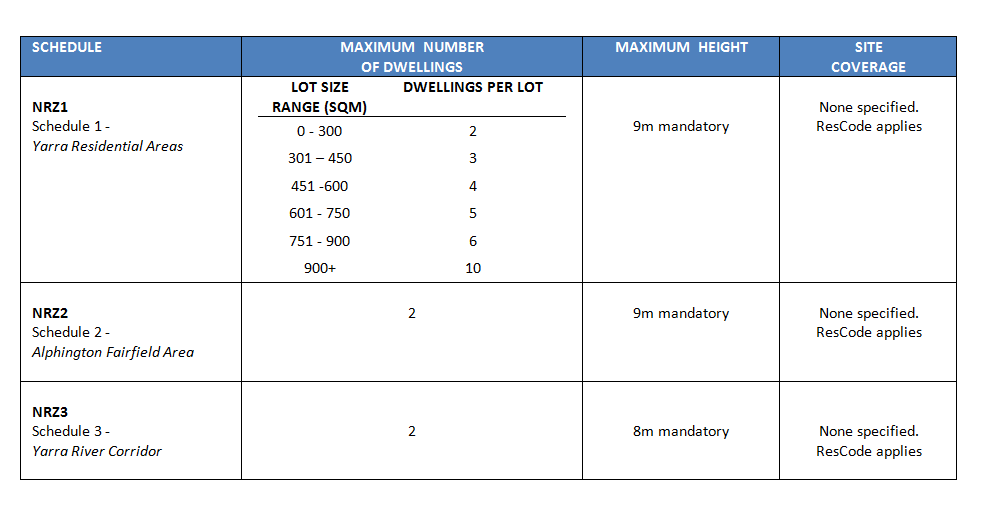 How does this affect my current planning applications?
The new zones do have the ability to impose transitional arrangements for applications lodged with Council's prior to the zones being enacted by the Minister for Planning. Examples of these can be seen in the new zones for Greater Dandenong and Glen Eira. However these arrangements are at Council or the Minister for Planning's discretion.
What is the time frame for implementation?
So far only Glen Eira and Greater Dandenong have implemented the new residential zones into the planning scheme, Boroondara and Maribyrnong are expected to be the next authorities followed by Stonnington and Banyule. As some authorities are requesting that the new zones be implemented by the Minister without consultation by the public it is important for you or your clients to be aware of which Authorities are undergoing change.
When the new zones were first announced last year a deadline was given of the 1st July 2014 for all authorities to implement the zones, if the zones are not implemented by then the General Residential Zone will be applied with no schedule as the mandatory zone until that authority has applied the new zones.
We are expecting a large number of Council's in Melbourne to request an amendment by the Minister in the next few months in order to meet this timeframe.
Conclusions
The residential zones in Melbourne are about to become significantly more complicated.
It is vital to check which zone and schedule applies to your development site as there are wide differences between authorities which will have significant effects on the development potential of residential land.
The new zones may be implemented by Ministerial amendment removing the ability for representations to be made through the usual planning process.
If you have any queries or questions regarding the new zones and how these may affect your proposed or current developments the team at Perry Town Planning would be happy to discuss you situation.
To view your current zone use  www.townplanning.com.au or for further information on the new zones visit http://www.dpcd.vic.gov.au/planning/panelsandcommittees/current/residentialzones.